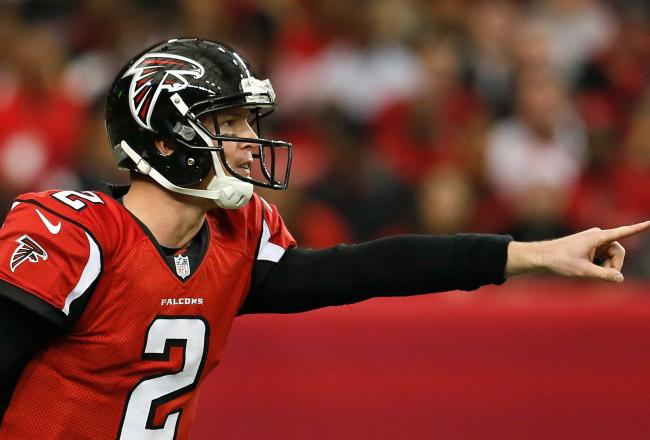 A battle of the birds pits two teams in very interesting situations against each other. The Falcons are the #1 seed in the NFC for the second time in three years, yet many would consider them the weakest team left. The Seahawks are a wild card team led by a rookie quarterback going into one of the toughest places to play and are considered by many as the favorite. If that's not confusing enough, try figuring out who will come out on top. That's what I'll attempt to do here.
Atlanta QB Matt Ryan has never won a playoff game, but this year is different. Ryan has broken out and is a true MVP candidate, throwing for 4,719 yards and 32 touchdowns. While it remains to be seen if that can correlate to postseason success, it's safe to say that Ryan has a new feel to the game now. He has three of the deadliest targets in the league in Julio Jones, Roddy White, and Tony Gonzalez, and is living up to his nickname of "Matty Ice" by winning clutch games. Speaking of Gonzalez, as arguably the most decorated tight end in NFL history, he is still looking for his first playoff win. In his final season, Gonzalez, as well as the Falcons, would love to lift the Lombardi trophy as he rides of into the sunset. The injury to Chris Clemons will be a big blow, but it will still be a war in the trenches as a solid Falcons' offensive line battle the brutal Seattle pass rush.
This high-powered offense will go up against a dominating Seattle secondary (6th in the league against the pass) in what is truly the matchup of the game. Corner backs Richard Sherman and Brandon Browner as well as safeties Earl Thomas and Kam Chancellor make up one of the best secondaries in the game. They have been physical all year and excel at shutting down the competition, no matter how talented. In the battle between Seattle's secondary and Atlanta's passing game, the winner of that will likely win the game.
Seattle has a pretty strong rush defense too, so it could be a long day for Michael Turner and Jacquizz Rodgers. However, if head coach Mike Smith is able to deploy them strategically enough like he has at some times this year, they could have some success. Turner has had a handful of good games this season, but more often than not, he's looked like he's out of gas. Rodgers is the change of pace back and can provide a spark. This is Smith's job to run the right back at the right time, and he's under a bit of pressure; he too has not won a playoff game for Atlanta.
Despite being 3rd in rushing offense and 27th in passing offense, the story for the Seahawks starts with quarterback Russell Wilson. In my mind, Wilson should be the rookie of the year. Despite Luck's yards and Griffin's efficiency, Wilson has truly looked more poised than both of them and is playing like an experienced quarterback. Here are Wilson's stats for both halves of the season:
First eight games: 129 for 210, 1,466 yards, 10 touchdowns, 8 interceptions, 128 rushing yards, 0 rushing touchdowns.
Last eight games: 123 for 183, 1,652 yards, 16 touchdowns, 2 interceptions, 361 rushing yards, 4 rushing touchdowns.
Wilson has morphed into a new player, and that's not even mentioning his 92.9 QBR against Washington last week. I expect him to have success both rushing and passing, even in the Georgia Dome.
The defense for the Falcons is solid but not spectacular. Marshawn Lynch should have a field day. The Skittles-devouring running back just piled up 132 rushing yards against the Redskins and has been one of the best and most physical backs in the NFL since joining the Seahawks last year. While Beast Mode has a bum foot, he's not going to be stopped.
This is one of the toughest games to call, but I have to go with Atlanta. I think the Seahawks will get theirs on offense, but won't be able to hold off Ryan and his receivers. Ryan is a different quarterback this year, and I think this marks his first playoff win and his jump to elite status. Seattle is a step slower on the road, and an elite QB should be able to outmatch an elite secondary. The pressure is high in Atlanta, but I think it's time they deliver.
Falcons 27, Seahawks 21